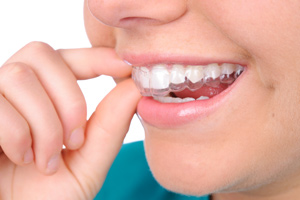 Sandy Utah Patients Love Invisalign Clear Braces
A lot of our patients grew up thinking that braces could only be clunky and obtrusive. What about you? Do you imagine metal brackets and wires that will ruin your smile while you have them? Do straight teeth seem too far away in the future?
Invisalign clear braces can solve both of those problems. Since they're nearly invisible, you'll be able to have a natural-looking smile while you're using them. Plus, Invisalign's innovative technology can straighten teeth more quickly than metal braces can.
How Do Clear Braces Work?
During your first appointment at our cosmetic dental practice, we'll take impressions of your teeth and transfer those impressions to the Invisalign laboratory. There, they'll become three-dimensional models of your teeth.
Invisalign uses those models to create a customized series of clear aligner trays for you. Each tray will put consistent, gentle pressure on your teeth, moving them until they're ready for the next tray. Each tray should finish its work in about two weeks.
The trays are almost completely invisible and won't cause any problems for your gums or the inside of your mouth. They'll just gradually, inconspicuously move your teeth until you finish your last tray and get a straighter smile.
Is Invisalign Right for Me?
Invisalign is ideal for patients who are worried about any pain, irritation, or embarrassment that metal braces might cause. The system is nearly effortless for some patients. It can also work for you if you need more than a simple straightening. Invisalign can help correct:
Overbite
Crossbite
Underbite
Crowding
Spaces
Adults and teenagers can benefit from this fabulous dental technology.
Talk to Us About Clear Braces
Make an appointment with Dr. Clint Blackwood if you're interested in straightening your teeth without using metal braces. During your first appointment, we'll evaluate whether Invisalign is a good option for you. You can call our cosmetic and general dentistry office or submit a message using the contact form on this page.